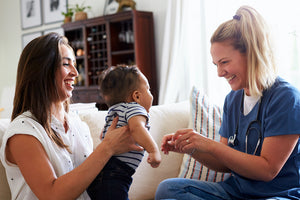 Postnatal & Breastfeeding Home Visits
---
Regular price
Sale price
$261.14
---
Helping you and your new baby after birth.
Our programme starts with a visit from one of our midwives the day after the mother and baby are discharged from the hospital (or as close to this day as possible). The visits normally continue regularly for a period of around 4 weeks and are planned out with you. This invaluable support enables families to properly adjust to their new situation, ensures that breastfeeding is well established and that parents' emotional well-being is secured. All of our midwives are also registered lactation consultants (IBCLC).
Sessions

Each visit lasts one hour on weekdays only. A visit typically includes:
Physical checks on the baby: jaundice, hydration, weight
Advice and guidance on aspects of baby care: feeding, cord care, bathing, swaddling/soothing techniques, winding, massage, and safe sleep
Physical checks on the mother: vaginal, perineal and c. section wound checks (including the removal of c. section stitches), checking of the uterus and bleeding, blood pressure monitoring
Advice, support and guidance on parenting techniques and routines, postnatal recovery and exercises, returning to work, 'baby blues', postnatal depression and anxiety

Other information
This package includes 4 x 1-hour sessions. The packages are to be used within the first 6 months from the first visit. Visits are usually conducted on weekdays only (Monday to Friday) but your care will be carefully planned with this in mind.
Home visit packages (x4) are offered at 5% discount (as displayed in prices above), and our Nexus and Best of Both package couples enjoy a 10% discount off all the services in their package, including home visits.
If a package of home visits are purchased and not all used, the previous home visits will be charged retrospectively at full price.
Extended travel time
For New Territories, outlying islands, Shek O, Big Wave Bay and other areas, please refer to the below table to find your travel charge per visit and choose the appropriate option above.
*For Discovery Bay/Tung Chung - no extra travel charge apply as long as a visit at the start or end of the day.
Zone 1
Zone 2
Zone 3
No Extra Cost
HK$200 per Visit

HK$400 per Visit

Hong Kong Island
Kennedy Town
Mid-Levels
Happy Valley
Causeway Bay
North Point
Ap Lei Chau
Aberdeen
Discovery Bay*
Tung Chung*





Kowloon &


New Kowloon

Deep Water Bay
Repulse Bay

Stanley

Tseung Kwan O
Lohas Park
Park Island



 

New Territories &
Islands
Shek O 
Big Wave Bay
Clearwater Bay
Sha Tin
Tai Po
Sai Kung
Gold Coast
Fo Tan
Sha Tin
South Lantau
Lamma Island
Peng Chau