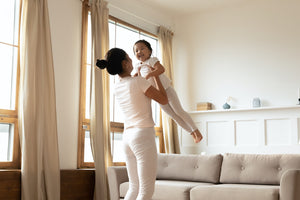 CPR & First-Aid for Helpers
---
Regular price
Sale price
$195.86
---
A must for all helpers who are taking care of babies and children. Even if they are mothers themselves or have previous childcare experience.
What does this package cover?
This is a four-hour intensive course. Far from being just a lecture, our course is interactive, very hands-on and the students are expected to participate and practise. We have lots of equipment to facilitate this, including dedicated child-size CPR mannequins.

The content is very similar to our CPR course for parents but we adapt the language used so that we ensure everyone is accessing the information. The special position of the helper within the family is also taken into account, and a lot of focus is put on roles and responsibilities should an accident or emergency occur.

Our instructors are well-versed in helper training and understand the myriad of misunderstandings, differences in culture, experience and education which can lead to breakdowns in communication, poor choices and ultimately a potentially dangerous or upsetting experience.
We have been running this course at Annerley for many years and we have designed it to be tailor-made for Hong Kong families, with the environment, living conditions and weather in mind. Coupled with this is the particular relationships between helper, parent and child which makes this a very specific course.
Sessions
Course content includes:

CPR - infant, adult, child
AED
Drowning
Choking - infant, adult, child
Anaphylaxis
Unconscious victim & recovery position
First Aid - severe bleeding, puncture wounds/minor wounds, fractures, dislocations, sprains, burns, sunburn, heat exhaustion/heat stroke, poisoning, snake bites, head injuries, nose bleeds
Other information
This is not a certified course and therefore does not include an official 'test". We do however give our students an attendance certificate for their paperwork and our instructor assesses each person in various different ways in order to be sure that the information has been adequately processed and that theory can be applied to practice.

Feedback will be given upon request and we will contact you if our instructor feels that there are any significant issues with the learning process.

Once paid, the classes are non-refundable and non-transferable.

Classes must be booked in advance as this is not a drop-in session and places must be reserved. Cost is per person.
This is held at our OT&P Family Clinic location.